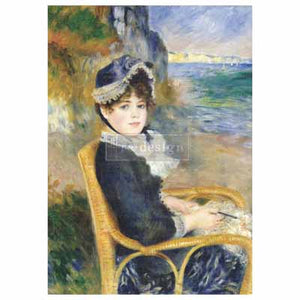 Mulberry Decoupage Paper A1 - Riveria
A1 - 59.4cm x 84.1cm
Created from renewable mulberry paper, our papers are designed especially for furniture makers, with so many advantages you will wonder how you lived without them.
- easy to apply
- wrinkle free application
- very forgiving product
- repositionable after applying a decoupage product for the perfect fit, without tearing or wrinkling
- more durable - less risk of damage on furniture
- realistic designs - like a real painting, not just a print
- gorgeous texture. Looks like palette and brush strokes
- rich colours - all the way through
- Matte finish, which is so much better than the glossy ones, for blending edges, sealing, etc.
- not waxy. not glossy. not parchment paper, not copy paper
- paint will not streak on top
- can add stencilling on top, or layer papers easily
- thicker then rice and tissue paper, thinner than original decoupage paper