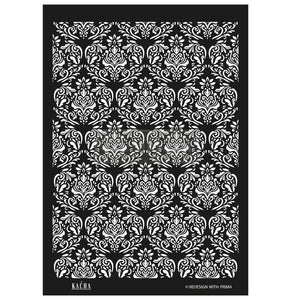 Decor Stencil - Kacha - Renata - 18" x 25.5"
Kacha's Versailles inspired collection will add a glamorous and vintage effect to your furniture and walls with this exquisite damask patterned stencil, Renata. 
Easier to apply than wallpaper, stencils can be used with so many products. Roll over the stencil with paint for fast and easy results, dab Decor Wax over for a glimmery effect, blend multiple colours of Metallic Sheen or Chalk Paste for for a fun design, or spread any paste over the stencil for a raised effect.